Our specialty are small and medium series of products such as various housings, subassembly parts for machines or automatic machines, various metal structures, cabinets, all in a fairly complex form. COP d.o.o. is a private company focused on producing high quality sheet metal products at competitive prices.

Years of experience, first under the name of Iskra AVN, and since 1994 COP d.o.o. classify us among the companies that customers trust them both at home and especially in the demanding Western European markets. Our big advantage is high flexibility, professionalism, responsiveness of almost 30 employees at approx. 2000 m2 and modern equipment that we offer to our customers. We are always in contact with the development of technologies because only by doing this we offer our customers high quality support.

The company strategy is focused on the development and technology. We process sheet metal from 0.8 to 5 mm, steel plates, galvanized, aluminium, stainless steel (inox) plates. We offer a service of sheet metal processing for Slovenian, German, Swiss, Austrian and Italian markets. We have our own R & D department, which provides us with high quality and excellent products, but also continuous and real-time control of our products. We offer assistance in the products development.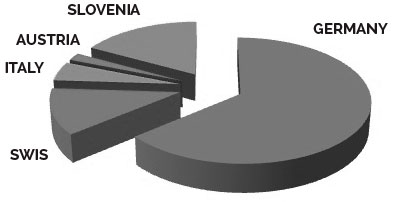 Our references are satisfied customers at home and abroad – Germany, Switzerland, Italy, Austria. More than 70% of our services are offered in the European Union countries, which can be seen from the graph.